Lapis Luna, meaning "stone" and "moon," was established in 1999. For more than 20 years, they have been on a journey to produce exceptional wines from the incredible vineyards of California. The head winemaker of Lapis Luna, Nicole Walsh, has more than 25 years of experience in the wine industry, holding every position possible in wine production, including winemaking, vineyard management, grower relations, and property development. Originally from Michigan, Nicole graduated from Michigan State University with a major in Horticulture and Viticulture at a time when the department only comprised of two students.
Nicole, finds great empowerment in forging her own path. She firmly believes that her presence as a woman in the wine industry is not only inspiring but also encourages other women to pursue their passions fearlessly. When Nicole shares her role as the winemaker with women customers, she witnesses a remarkable transformation. Their eyes light up with excitement, and a newfound interest in the wine is ignited. They recognise that the wine in their glass is a result of her dedication, knowledge, and skill.
This newfound knowledge enhances their connection with the wine, making the experience even more meaningful and memorable.
Lapis Luna wants to inspire people to reach for the moon, so each label shows a faceless hero doing exactly that- reaching for the moon and overcoming obstacles in a timeless story of aspiration and redemption. The label artwork originated from 400-year-old copperplate engravings from the 1600s, published by poet Herman Hugo. His book, "Pia Desideria" (Loving Desires) contained engravings and emblems of love, and became a classic of the 17th century. The quest depicted on the bottles reflects the hero's journey to reach for the moon. The Lapis Luna wines deliver fresh and vibrant fruit, balanced with lively acidity and good structure, creating true-to-varietal expressions that can be enjoyed every night of the week.
The Wines
2020 Lapis Luna Cabernet Sauvignon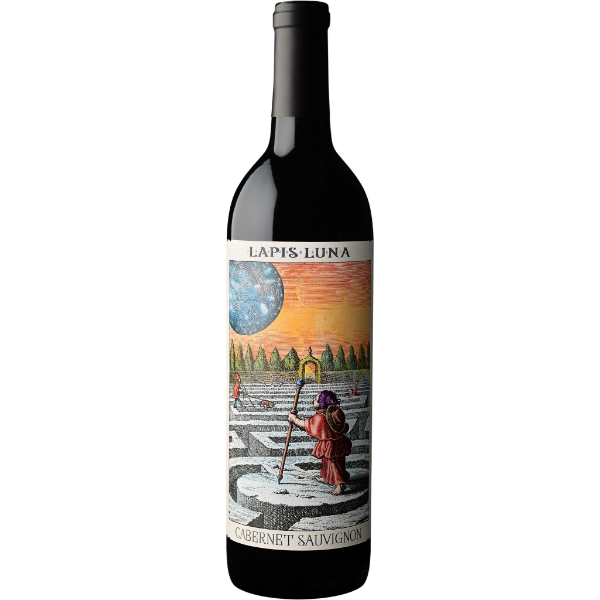 92 pts – Ken Gargett (Wine Pilot): Opaque maroon, the nose offers chocolate, bergamot, blackberries, dried herbs, some warm earth and spicy notes, even a hint of blueberries. This is bright and fresh, offering delicious flavours so lots to like here. It has everything in place to age easily for another six to eight years thanks to good length before it finishes with soft, gentle tannins. An attractive Californian Cab at a fraction of the price one normally expects to pay.
90 pts – Angus Hughson (Wine Pilot): This unique take on California Zinfandel offers the raw power you'd expect from the US of A but also retains a degree of subtlety. A deep colour and lashings of blackberry, chocolate and plum jam. There is an initial decadence of mouth filling liquorice flavour before rustic tannins provide shape and backbone to a strong finish. Fans of big Barossan Shiraz will not be disappointed.